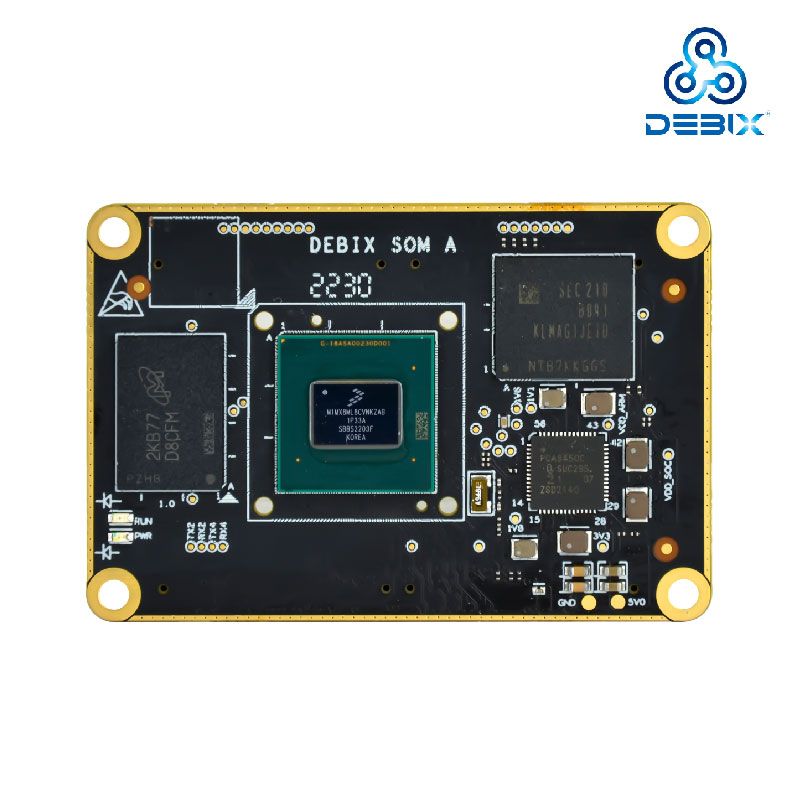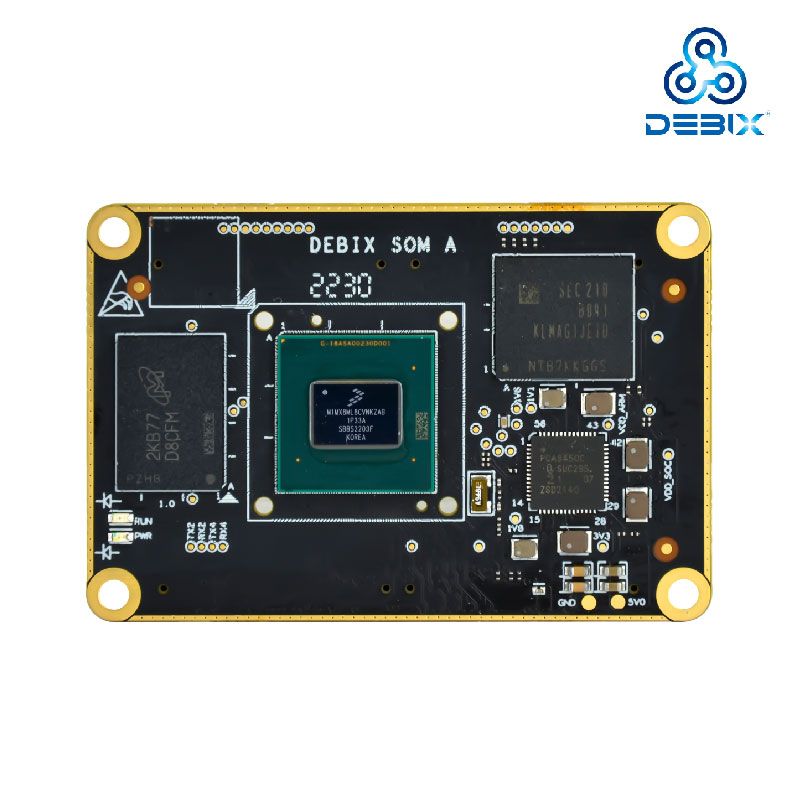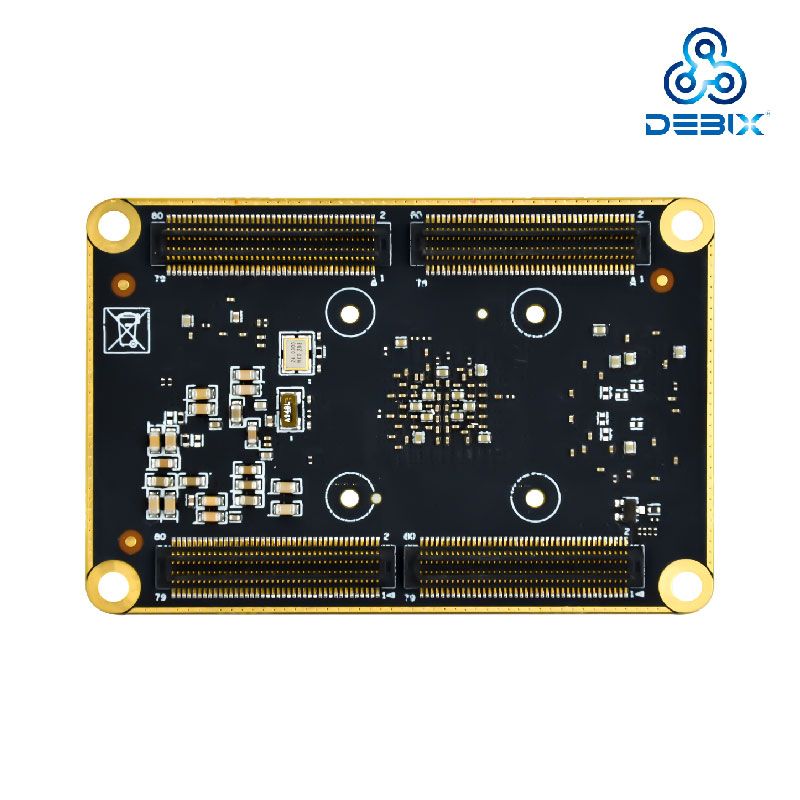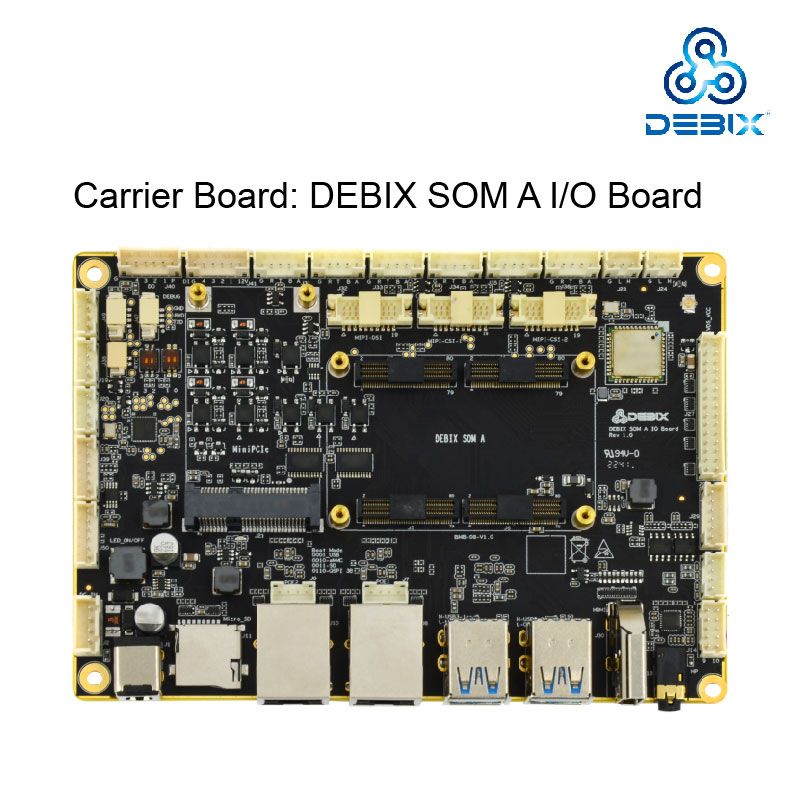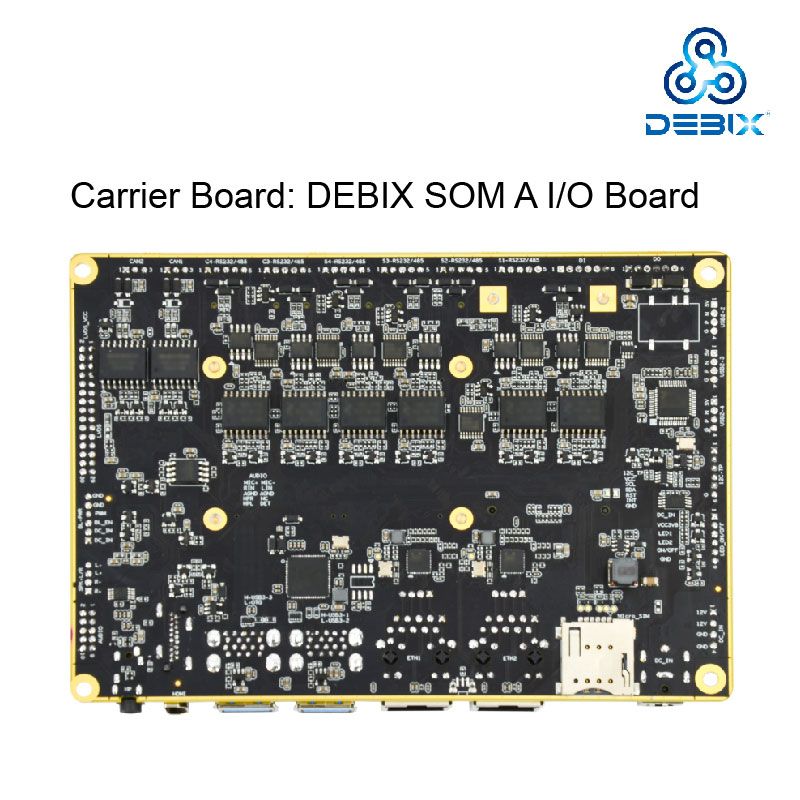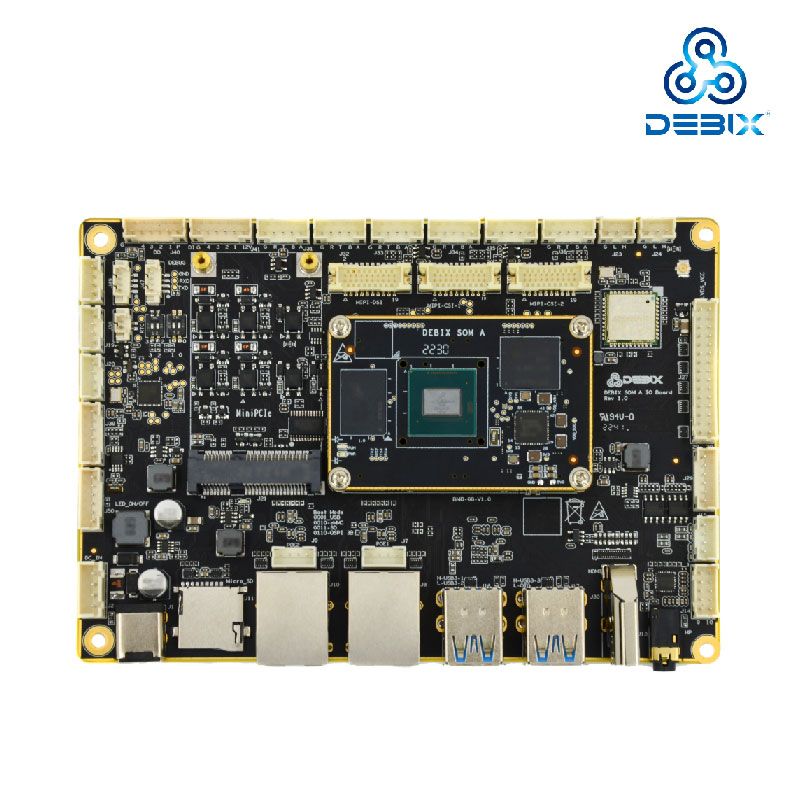 DEBIX SOM A: i.MX 8M Plus System on Module
Model:DEBIX SOM A
Features:
Model: DEBIX SOM A
PLEASE NOTE: You can visit DEBIX Brand Website for more information and technical support.


Overview:
DEBIX SOM A is the first System on Module product of the DEBIX series. As with the DEBIX Model A SBC, it is based on NXP i.MX 8M Plus CPU with a 2.3 TOPS NPU, which brings us the same powerful system performance. This core board design has some notable benefits, such as design reutilization, reduction of development time of the carrier boards, and flexible integration into various embedded systems.
Main Features:
· Powerful industrial grade core board built to meet the needs of industry 4.0, IoTs, smart cities and multimedia
· Complete software development including Android 11/ Yocto-L5.10.72_2.2.0/ Ubuntu 20.04/ Windows 10 IoT Enterprise operating system and basic software for fast and direct applications
· Real-time control with Cortex-M7. Robust control networks supported by CAN FD and dual Gigabit Ethernets, one of which supports Time Sensitive Networking (TSN)
· Dual Image Signal Processors (ISP) and dual camera inputs for an efficient advanced vision system
· Advanced multimedia capabilities include 1080p60 video encode and decode (including H.265, H.264), 3D/2D graphic acceleration, and multiple audio and voice functionalities
Carrier Board DEBIX SOM A I/O Board: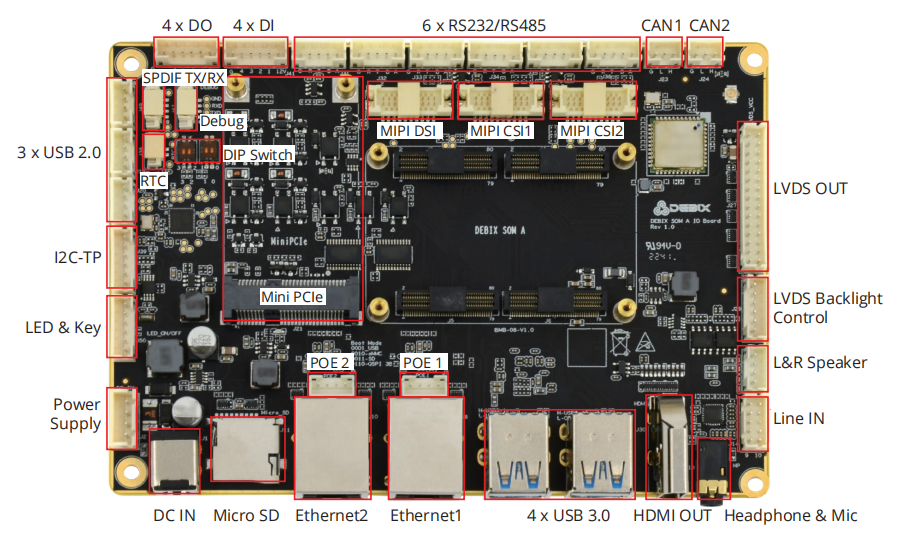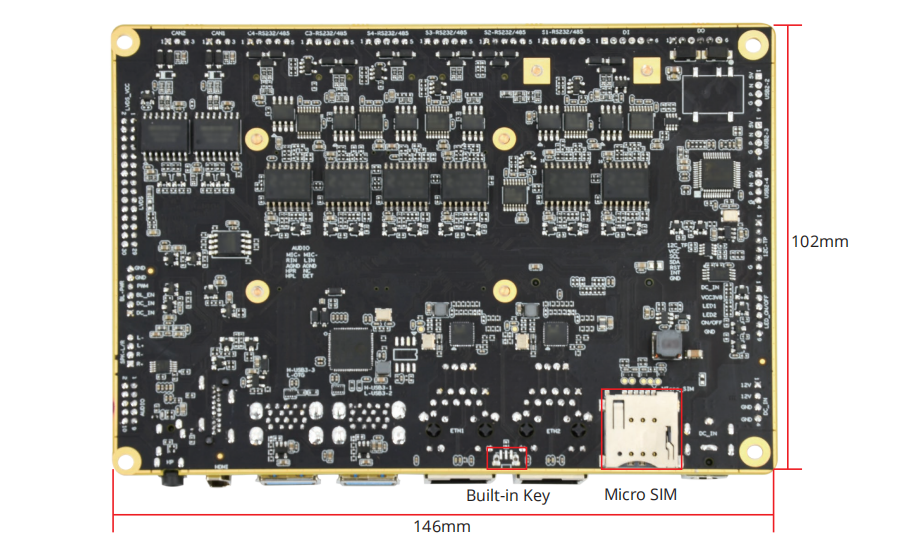 Product Version:
DEBIX SOM A has two versions, the standard and SE version. Their differences lie in the CPU modules, see the table below for details.

| | | | | |
| --- | --- | --- | --- | --- |
| Version | NPU | VPU | ISP | HiFi 4 |
| DEBIX SOM A Standard | 1 | 1 | 1 | 1 |
| DEBIX SOM A SE | N/A | N/A | N/A | N/A |
DEBIX SOM A Standard/SE Specification:
System
CPU
NXP i.MX 8M Plus (default), 4 x Cortex-A53, comes with an integrated neural processing unit (NPU) that delivers up to 2.3 TOPS. Industrial grade CPU runs at 1.6GHz, and commercial grade CPU runs at up to 1.8GHz.
(i.MX 8M Plus series CPU optional)
Memory
2GB LPDDR4 (1GB/4GB optional, while 8GB is optional when operating temp. is -20°C to 70

°C

)
Flash
Onboard 16GB eMMC (8GB/32GB/64GB/128GB optional)
OS

Ubuntu20.04, Android11, Yocto-L5.10.72_2.2.0, Windows 10 IoT Enterprise
Note: 4GB and 8GB LPDDR4 supports Windows 10 IoT Enterprise, we recommend the 8GB version.

I/O Interfaces
Ethernet
2 x Gigabit Ethernet controller, one of them supports Time Sensitive Networking (TSN)
Display
1 x HDMI 2.0a, support 3840 x 2160@30Hz, 1920 x 1080@120Hz, 1920 x 1080@ 60Hz
1 x LVDS, support 4Lane and 8Lane
1 x MIPI DSI, support 2560 x 1080@60Hz
Camera
2 x MIPI CSI
Audio
Up to 6 x SAI (synchronous audio interface), HiFi4 DSP, 1 x SPDIF IN, 1 x SPDIF OUT
(Note: 1 x SAI with 8 TX and 8 RX lanes, 1 x SAI with 4 TX and 4 RX lanes, 2 x SAI with 2 TX and 2 RX lanes, 2 x SAI with 1 TX and 1RX lane, all SAIs support I2S and AC97)
USB
2 x USB 3.0, configurable as device or host
UART
Up to 4 x UART
I2C
Up to 6 x I2C, I2C2~I2C6 are exposed to the connectors (2 of the five I2Cs are multiplexed as SD1). I2C1 is not allowed to be configured.
SDIO
2 x SDIO
SPI
Up to 3 x ECSPI
PCIe
1 x PCIe Gen3
CAN
2 x CAN
GPIO
13 x GPIO for default, other functional pins can be configured as GPIO through software
Power Supply
Input Voltage
3.5V~5V
CPU Operating Temperature
Commercial
0℃~95℃
Industrial
-40℃~105℃
Mechanical
Connector
4 x Double-sided board-to-board connector (model number BB51024A-R80-10-32), 2 x 40pin/0.5mm pitch, matching sockets of various heights
Dimension
60mm(L) x 40mm(W) x 5.6mm(H)
DEBIX SOM A I/O Board Specification:
System
Core Board
DEBIX SOM A
Boot
(1) Support boot from eMMC on DEBIX SOM A
(2) Support boot from Micro SD on carrier board
(3) Support boot from SPI Nor Flash on carrier board
Vedio & Audio
HDMI
1 x HDMI output, Type-A female socket
LVDS
(1) 1 x Dual-channel LVDS output, support single-channel 8bit and dual-channel 8bit output (2*15Pin/2.0mm pin header)
(2) 1 x Backlight control connector (1*6Pin/2.0mm pin header)
(3) 1 x I2C touch panel connector (1*6Pin/2.0mm pin header)
MIPI DSI
1 x 4Lane MIPI DSI (2*10Pin/1.25mm pin header)
MIPI CSI
2 x 4Lane MIPI CSI (2*10Pin/1.25mm pin header)
Audio
(1) 1 x Headphone and mic combo port, 3.5mm socket, compatible with built-in header design
(2) 1 x Line in, analog input
(3) 1 x L&R speaker output, Max. 3W@4Ω (1*4Pin/2.0mm pin header)
(4) 1 x SPDIF TX/RX audio connector (1*4Pin/1.25mm pin header)
Communication
Ethernet
2 x Independent MAC Gigabit RJ45 port with POE power supply (need POE power device module)
WIFI & BT
2.4GHz & 5GHz Wi-Fi and Bluetooth 5.0, external SMA antenna connectors for Wi-Fi and 4G
Other I/O Interfaces
SIM Slot
1 x Micro SIM slot, push pop-up slot
SD Slot
1 x Micro SD slot, push pop-up slot
Mini PCIe
(1) Support 4G Mini PCIe module such as Quectel 4G Module, built-in SIM card, etc.
(2) Support LoRa Mini PCIe module
(3) Support Mini PCIe expansion for network card, SATA and serial port
USB 3.0
4 x USB 3.0 Host, double-layer Type-A interface
USB 2.0
3 x USB 2.0 Host (1*4Pin/2.0mm pin header)
Serial Ports
(1) 6 x Isolated RS232/RS485 (you can choose only one of two), compatible with UART TTL 3.3V without isolation
(2) 1 x UART TTL 3.3V system debug port
GPIO
(1) 4 x Isolated DI, support dry contact and wet contact
(2) 4 x Isolated DO, support wet contact, compatible with dry contact of external relay
CAN
2 x Isolated CAN
LED & Key
(1) 1 x Power LED
(2) 2 x Programmable LED
(3) 1 x ON/OFF
The above interfaces share one connector (1*6Pin/2.0mm pin header)
(4) Built-in small key for eMMC upgrade without disassembly
DC Jack
(1) 1 x DC jack for 5.5mm x 2.1mm DC plug
(2) 1 x Built-in power supply connector (1*4Pin/2.54mm pin header)
Power Supply
Power Input
DC 12V for default, support wide voltage range of DC 12V~36V
Mechanical
Dimension
146.0mm x 102.0mm
NXP i.MX 8M Plus CPU, 2.3TOPS NPU, 800MHz MCU
1GB-8GB LPDDR4, onboard 8GB-128GB eMMC optional
Android 11, Yocto-L5.10.72_2.2.0, Ubuntu 20.04, Windows 10 IoT Enterprise