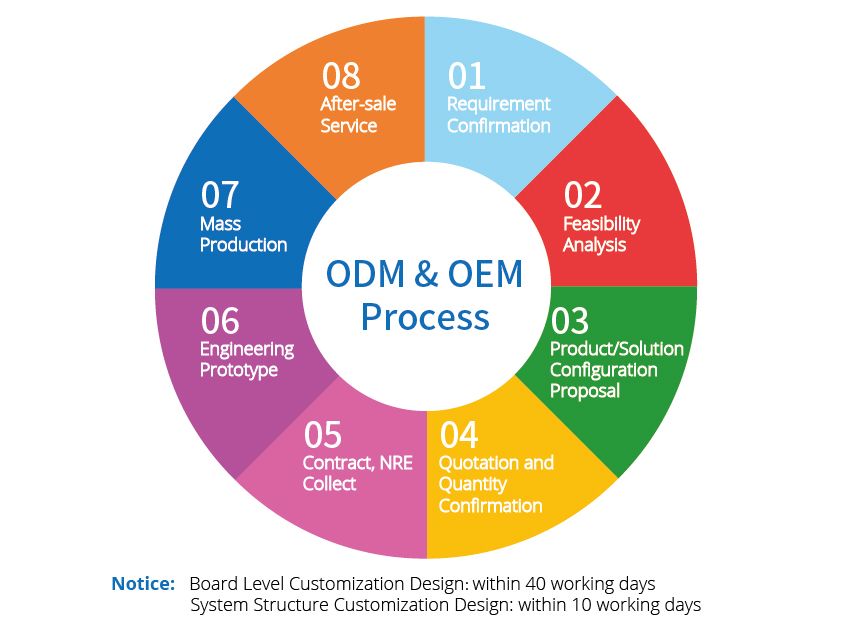 OEM/ODM Service Guidance
As an OEM/ODM partner to our customers, we provide exceptional one-stop design and manufacturing services to implement our customers' basic hardware development, thus to get their engineers to remain focused on their core products' application level development.
An Eight-Step Approach to Project Success
①Requirement Confirmation ②Feasibility Analysis ③Product/Solution Configuration Proposal ④Quotation and Quantity Confirmation ⑤Contract, NRE Collect ⑥Engineering Prototype ⑦Mass Production ⑧After-sale Service
Q&A
Q5: Can your device work 24h*7 days? And what about the temperature range it can operate in?
Re: Yes our products support working 24h*7 days. As for the temperature range we generally have three options: ① Commercial grade: 0~+70℃ ② Industrial grade: -20~+85℃ ③ Vehicle grade: -40~+125℃
Q4: What's the warranty?
Re: We generally offers 1 year (12 months) of warranty for standard items but please confirm individual warranty period for various products.
Q3: Can you print my logo on the computer?
Re: Yes, it is supported.
Q2: What's your OEM/ODM service process?
Re: The process of OEM/ODM service is following: 1) Fill the Customer Requirement Form, you can select your hardware directly or work with us on requirement analysis 2) We work out the solution proposal 3) You confirm the solution proposal 4) We build your prototype and send it to you 5) Pilot run and mass production
Q1: How can I order your products
Re: We have customized products(which are specially designed for our customers, only for display) and standard products(you can order directly), if you are interested in our customized products, you can work with us and design your own product.
Download Customer
Requirement Form
Build Up Your Computing Hardware with Polyhex